"The hobby that got out of hand". Thatís how Chris Rajzer would tell you Rajzerís Farm Market and Greenhouse came to be what it is today. It should not have been a surprise to either Chris or his wife Dina, as they both came from families that sold produce or operated greenhouses and nurseries, but each of them insisted that they never intended to farm full time.
Today, Rajzerís Farm Market and Greenhouse is a multiple generation family farm that is dedicated to providing a wide variety of quality vegetables, fruit, and plants grown and harvested from our fields and greenhouses. What you see and experience today when you visit Rajzerís is the result of many years of evolving from a hobby to a part-time operation and, finally, to a full-time farm. Chris and Dina Rajzer originally started the farm in 1977 by selling produce from a wagon alongside the road in front of their house. At times that wagon was a self-service station as both Chris and Dina had full-time jobs and at other times you could find the Rajzers or their children, Julie and Brian, manning the wagon. As Chris continued to grow additional crops, the business continued to grow and adapt such that, eventually, both Chris and Dina made the farm their full-time occupations.
In 2002, after Brian graduated from college, he joined Chris and Dina and together they added the greenhouses to the business. Brian and Dina managed and ran the greenhouses and the front of the market while Chris managed the produce production. After Dina passed away in 2012, Brian took over all responsibility for the greenhouses and market. In addition to seeing Brian and Chris when you visit us, sometimes you will see the other family members helping out (or pretending to help in order to enjoy the in-season goodies when they come in from the fields) but perhaps most important, sometimes you will see the next generation of Rajzers underfoot, eager to learn and help. We thank you for your continued patronage!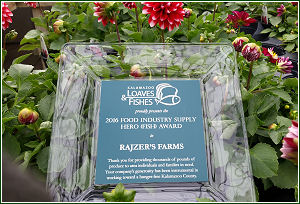 Click for larger view